Sydney Music Producer
New! – To purchase 'Just Like Your Smile' from the ABC3 'Smile…It's Summer' Promo, as featured in the programme CJ the DJ, click here for instant download!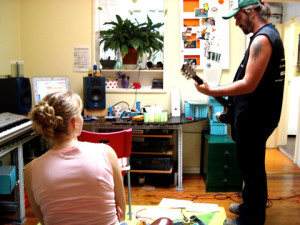 Barbara Griffin is a Sydney music producer with over a decade's experience producing cutting edge music tracks for a wide variety of clients, including advertising agencies, major label recording artists, and TV show themes.
Running Logic Pro X with Tannoy Active studio monitor speakers, a Korg Triton and a battery of soft-synths, a vast library of beats and drum sounds, and a K2000 valve microphone, Barbara produces the track from scratch creating multi-layered soundtracks (or just great pop songs!) – styled to the brief.
An award-nominated recording engineer (Finalist for Recording Engineer of the Year as well as an APRA award winner for her music composed for Qantas, Barbara is a programmer, keyboard player, recording and mix engineer, sound designer, and music producer.
Barbara usually works with signed artists writing for their upcoming album or single, produces 'records' (yep – i still call 'em that!) – for artists for a budget or release, or composes music on commission for television projects.
Working with Barbara feels relaxed. Barbara realised long ago that artists do the best vocals when they are relaxed and not feeling that 'red light fever' pressure that you get in studios with glass walls separating you from the control room. Production is not just about hitting record, comping, programming, structure and arrangement – it's about instinctive musical choices – but also, having the technical ability to execute them.
For that reason, every take is kept, as it when the artist is feeling the most relaxed, it's most likely that the best vocal performance will come out. After that, takes are painstakingly compiled ('comped') so that the resulting vocal is the 'best of the best' – and yes, fine-tuning software is uses judiciously as needed, so that the vocalist 'sounds like a superstar' – or rather, sounds like the standard that listeners expect these days.
Layering of background vocals is then added if it suits the style – other instrumentation is added, and then track is ready for final mix and then to mastering (a recommended step – yep, even for 'demos'!)
If you would like to work with Barb, please use the contact form to get in touch here. A day or days can usually be slotted in without too long a wait, to make a start on your project!