I'm writing this after a promo gig I did recently that went horribly wrong (for me, although nobody else would have noticed, I hope.) If you were there and didn't notice a thing – well, that's really the point of this post.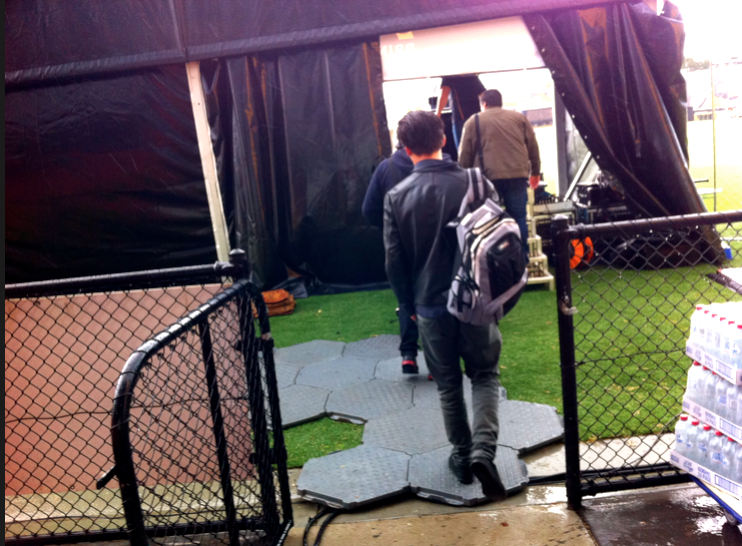 But I'll start way back with another story that is along the same lines, but which happened to someone else who I admire tremendously. It was when I was playing with Jon Stevens, as the keyboard player in the what was to become a temporary lineup of Noiseworks that Jon, Kev and Chet called 'Noiseworks II'.
We did a couple of songs at this big televised Rugby gig – the State of Origin. Jimmy Barnes was there too, to do a duet of 'Good Times'.
Anyway, the songs went well, and we finished with a flourish, heard distant applause from the stands as we left the stage, and walked back across the grass to the underside of the stadium.
Back in the band room, Jon was furious.
His in-ear monitors hadn't been working – AT ALL. He had to rip them out and basically sing to the front of house – listening to speakers miles away with a several second delay – while his performance was being broadcast and he was being filmed in close-up, by multiple cameras, and on all the big screens at the game, plus on national TV, live – and he didn't let it show, not a bit.
'Bad foldback' or 'no foldback' might not sound like a big deal but for a lead singer on a prime-time television live performance moment, it's huge. Plus, there are supposedly a team of top professionals who set this all up AND soundchecked it so it works perfectly. (Of course, it was human error – someone had forgotten to un-mute, presumably.)
If a singer has a bad performance on television, it could jeopardise their reputation, fan base and even future income – by coming across 'flat', out of time or worse – simply because they weren't able to hear themselves adequately, balanced with the band instruments, which they also need to be able to hear to pitch to and to keep time to.
And we've all seen these epic fails go viral. It's more popular to share an epic fail than a good performance, unfortunately!
The moral of the story is that Jon just 'dealt with it', and I had so much respect for him for performing his ass off (like he always does) with nobody being the wiser.
Jon was such an experienced performer and had such good ears that he got himself through it. But that gig, I bet he would remember it forever (as do I).
In the end, the TV appearance comes and goes. The organisers, the TV people, the network, the public – nobody cares about the singer having 'foldback problems'. You are there to add a moment of entertainment to the game. Jon knew this, and he just dealt with it.
So, I was reminded of this when I had a similar situation in Melbourne recently, where I didn't fly my Triton down as usual – we hired one there; and for a second keyboard, we hired a controller that in the spec sheet said 'M-Audio'. "good", I thought, "it should work same as my own M-Audio".
A few things happened when I got there. We were on stage at 9.30am to sound check and set up, prior to our 12.45pm performance of three songs. Two of the songs used Rhodes or Wurli on one keyboard, Organ up top – and one used orchestral strings (very important, as it played the main 'hook' of the song in the intro) and Rhodes. I was using something called Mainstage on my Macbook for the second keyboard, and the Triton as the bottom keyboard.
I had all my patches saved on Mainstage, and it should have been a matter of plugging everything in and it just working; however the M-Audio wasn't an M-Audio like this one, that I use:

it was this one. Same but different.


Now you'd think that would work, being a) A mac, b) being the same brand as I use and c) being a fancier/more modern version, but it bloody doesn't.
See here – I'm not the only person that's found this.
axiom doesn't work with mainstage google search
In fact, I already knew this having been provided with one of these at a festival gig a few months back, and not having had time to download the driver or anything (festivals are like, go on stage, plug in, line check in 5 or 10 minutes, then play!)
If I'd know (from the specs sheet) that I was getting an Axiom rather than an M-Audio I might have taken mine with me, asked them to swap it, or even sorted it out before I went. (I could have upgraded to the latest version of Mainstage at a cost of $31 plus downloaded 665 megabytes of content for it – but I would have had to do this prior.)
So there I was, not working. Plugged in the iPhone and tethered it, looked it up – was there a driver? No driver. Found many posts where it just didn't show up. However, Logic to the rescue – opened Logic X which I recently upgraded to, it saw the M-Audio straight away. Created a quick patch or two on the fly, one for strings, and one for organ, and that was 'good enough'.
Apart from: the keyboard is shorter than the one I use, and of course with midi only partly functional, the octave transpose up and down buttons didn't work. So I had to kind of contort myself slightly clumsily to play both hands on both keyboards and have the part be at the right pitch.
I guess I could have edited it in Logic, but the thing is I was in sound check – just before the gig – this was seat of pants stuff.
The bottom keyboard, thankfully, was still loaded with factory presets (would have been a bit of a worry if it wasn't) so I was able to find the overdrive amp Wurli I like using, plus an adequate Rhodes sound, and had them lined up and ready to go.
We soundchecked, and it was all good.
Then, a two hour break before the gig. By now, there are 5000 people there, and we're intro'd and walk on stage to applause. However, the bottom keyboard – is it on? I can't see the touch screen. Oh crap. It's been turned on and turned back off again, so the patches aren't preset to what I left them on.
And… I can't see the display. Someone has adjusted or bumped the contrast knob. In my kind of 'panic but don't show it, because you are live now and the song has started!' luckily I had the top keyboard to play strings, and actually, I pretty much played strings on the top keyboard, while fiddling with the bottom keyboard as I was playing. No mean feat!
Finally, I got the Amp Wurli and the 'wrong' Rhodes on the bottom (had some weird phaser effect on it) so I was kind of winging that for the second two songs.
By the third song, I was able to (if anyone had been watching – hopefully most people had their eyes on the lead singer, the handsome bass player, or the flamboyant drummer rather than the worried looking keyboard player…) I was okay with it, playing and singing and remembering to look around at the other musicians on stage, smile, and even look out to the crowd. However by the time I got 'there' the gig was over.
I felt really disheartened going off stage, even though I knew that the band wouldn't have noticed, and neither would the crowd have, and that I did an okay job covering the first song with strings only, and as for the contortions, I would have probably been the only person to notice that.
Sometimes being a musician is dealing professionally with less-than-ideal situations. In this case it was gear malfunction: and every musician has experienced their version of this (it changes depending on the instrument).
But nobody cares.
The musician realises 'the show must go on'. And in this moment the musician puts 'the greater good' ahead of their own ego.
I did allow myself to get off stage and out of earshot of the lead singer and stage manager (it really wasn't his fault, though I could have made it be if I'd been feeling mean), I ranted to the bass player. "Bah humbug wrong gear, reset, didn't work, couldn't see, had to play first song entirely on strings, blah blah grumble grumble!"
But if I had been honest, the best thing would have been to do nothing, say nothing. This is what being a professional is about. To do a great job, with a great attitude, so nobody could tell anything is wrong (if it is) no matter what.
I am not perfect and I did allow myself a small grumble afterwards, but I've seen musicians do so much worse (have full blown tanties at their crew or whoever is there) – and it's just not nice to see. The thing is, as musicians we would play for free – we really would!
But it's the 26 hour days, the waiting at airports, getting gear in and out of cabs and trains and planes and cars and the 'hurry up and wait' factor when you're stuck in a green room with 2 hours before the gig and you're not sure if they're going to bring food and drink or not and you've already checked out of your hotel and been there for 3 hours and didn't have breakfast because it was too early; and there's a string of people coming and going from the green room that you have to smile and be nice to, because they've been looking forward to meeting you, and they want photos, and so on…
So yeah. There's a big difference to what it's really like versus what people think it would be like; but you just cannot let on; you just have to suck it up, and be professional. Of course you ALSO have to be a musical legend and really good at your instrument, but without professionalism, it doesn't work; so in a way, that is the biggest thing to a musician's success as a life performer or session player of any kind.